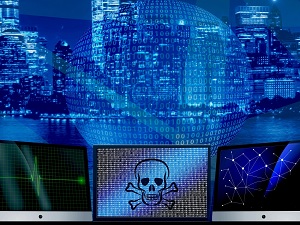 Around the world, hundreds of millions of people are terrified of the current pandemic that's raging. Most of those are currently self-quarantining at home and limiting their social contacts. Everyone is hungry for news and information.
Sadly, hackers, scammers and other assorted criminals have wasted no time preying on this massive captive audience.
According to data collected by Proofpoint, there has been a massive surge in Coronavirus-themed phishing and malware attacks. In fact, these kinds of attacks now dominate the threat landscape and are likely to continue to do so until the end of the crisis.
A representative from another security company, Trustwave, is also tracking the surge in these types of attacks.
Trustwave had this to say about the trend:
"Cyber criminals, proving beyond doubt they are completely devoid of morals, have ramped up their activities, unashamedly using all manner of coronavirus lures to trick people. We are now seeing dozens of different email campaigns per day."
To be sure, some of the campaigns being launched are more sophisticated than others. Some do little more than attempt to persuade a potential victim to donate bitcoin to a phony fund.
Others are a good deal more subtle, and will pretend to be from respected groups like the World Health Organization, either promising information or asking for donations during this critical time. Naturally, anyone who attempts to access the promised information or help out will wind up with one form of malware or another installed on their system and not get the information they were promised.
These facts underscore an important point. As desperate as everyone is for information, it's more important than ever to keep security at the forefront of our minds. No matter how temping a lure might be presented to you, refrain from clicking on links or opening files from untrusted sources.